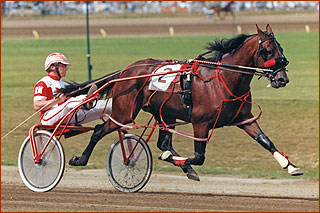 p,2,1:51.1f; 3,1:50.4f; 1:49.2 Earnings: $3,085,083
H, 1988 By Abercrombie-Miss Elvira by Albatross
Background & Current Status:
Bred by: Brittany Farms & Brian Monieson
Sale History: Retained for racing
Owned (during his racing career) by: George Segal & Brian Monieson
Trained By: Bob McIntosh
Current Status: Deceased
Racing Credentials:
Hall Of Fame Horse. In 1992: "Horse of the Year," undefeated in 16 starts, retired as the second-leading money-winning pacer of all time, retired as the fastest pacer of all time on a mile track (1:49.2) and retired as the co-fastest pacer of all time on a 5/8-mile track (1:50.4f). World Champion at both 2 and 3. In 1990: "2-Year-Old Pacing Colt of the Year," leading money-winning 2-year-old, fastest 2-year-old pacer of all time (1:51.1f, when taken).
Major Stakes Victories:
Breeders Crown ( as both a 2YO and 4YO), Metro Stakes, Governor's Cup, Canadian Pacing Derby, U.S. Pacing Championship and American-National (twice).
Artsplace retired to stud as one of the greatest Standardbred racehorses of all time, yet his accomplishments as a sire have left an even more indelible mark on the history pages of the sport.
Standing for 14 seasons as a Brittany stallion at Southwind Farms in New Jersey (1993-2006), Artsplace sired the winners of more than $169-million, ranking him among the leading money-winning pacing sires of all time.
He was the sport's leading money-winning sire six times in a span of seven years, and sired 17 millionaires and the winners of 11 Breeders Crown races, again, ranking him among the all-time leaders in those categories.
A noted sire of great colts and fillies, his offspring are replete with champions, and include such prominent stallions as Art Major, Artiscape and Sportswriter, and tremendous distaffers such as Worldly Beauty, Glowing Report and Galleria.
He is harness racing's all-time leading pacing broodmare sire, as his daughters have produced the winners of almost a half-billion dollars, and have 53 millionaires to their credit. Their offspring include the co-fastest pacer ever, Always B Miki, leading youg sire Captaintreacherous, the richest pacer in history, Foiled Again and 2021 North America Cup winner, Desperate Man.