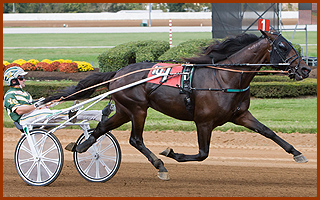 2,1:52.1f; 3,1:50.2f Earnings: $2,558,133
H, 2011 By Cantab Hall-Gala Dream, by Enjoy Lavec
Background & Current Status:
Bred by: Brittany Farms
Sale history: 2012 Lex Selected Yearling ($105,000)
Owned (during his racing career) by: Father Patrick Stable
Trained by: Jimmy Takter
Current status: Stallion (Diamond Creek Farm of PA)
Racing Credentials:
World Champion, Dan Patch Champion and Breeders Crown Champion as both a 2 and 3-year-old. The richest ($744,057) and fastest (1:52.1f) 2-year-old colt trotter of 2013; richest all-age trotter ($1,693,081) and fastest (1:50.2f) 3-year-old colt trotter of 2014. 2-year-old all-time Canadian record-holder.
Major Stakes Victories:
$500,000 Breeders Crown (at both 2 & 3), $682,000 Canadian Trotting Classic, $317,000 Stanley Dancer Memorial, $280,000 Peter Haughton Memorial, $365,000 William Wellwood Memorial, $500,000 Earl Beal Memorial, $203,000 American-National, Bluegrass and Champlain.