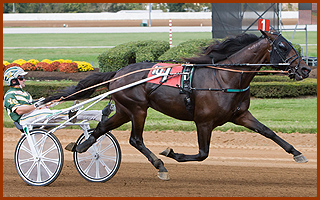 2,1:52.1f; 3,1:50.2f Earnings: $2,558,133
H, 2011 By Cantab Hall-Gala Dream, by Enjoy Lavec
Background & Current Status:
Bred by: Brittany Farms
Sale history: 2012 Lex Selected Yearling ($105,000)
Owned (during his racing career) by: Father Patrick Stable
Trained by: Jimmy Takter
Current status: Stallion (Diamond Creek Farm of PA)
Racing Credentials:
World Champion, Dan Patch Champion and Breeders Crown Champion as both a 2 and 3-year-old. The richest ($744,057) and fastest (1:52.1f) 2-year-old colt trotter of 2013; richest all-age trotter ($1,693,081) and fastest (1:50.2f) 3-year-old colt trotter of 2014. 2-year-old all-time Canadian record-holder.
Major Stakes Victories:
$500,000 Breeders Crown (at both 2 & 3), $682,000 Canadian Trotting Classic, $317,000 Stanley Dancer Memorial, $280,000 Peter Haughton Memorial, $365,000 William Wellwood Memorial, $500,000 Earl Beal Memorial, $203,000 American-National, Bluegrass and Champlain.
Father Patrick is another shining example of the residual value and long-term earning power one can attain with the purchase of a Brittany Farms yearling. Not only was he a champion and $2.5-million winner on the racetrack, but early in his siring career he has become one of the sport's elite trotting stallions.
His racing legacy is perhaps best defined by his Hall of Fame trainer Jimmy Takter, who told the trade media on more than one occasion, "This is the greatest horse I have ever trained."
His nearly-unblemished freshman campaign, which garnered him unanimous selection as 2-Year-Old Trotting Colt of the Year, included victories in what could be regarded as the Triple Crown of 2-year-old trotting: the Peter Haughton Memorial, William Wellwood Memorial, and Breeders Crown. His Canadian record score in the Wellwood (1:53.4) would be followed by his 1:52.1 World Record in his Breeders Crown elim.
Expectations were clearly off the chart as he began his 3-year-old campaign, and, more often than not, they were exceeded. He continued his resounding classic victories, established another World Record, led all trotters with almost $1.7-million in seasonal earnings, and was again voted divisional champion as 3-Year-Old Trotting Colt of the Year.
He completed his sophomore campaign with his second Breeders Crown win, adding an exclamation point and further emphasizing that he was indeed the greatest of his generation.
His siring career launched like a rocket. His first crop was led by 2019 "Trotter of the Year" Greenshoe and his second with classics winners Amigo Volo and Sister Sledge. He became the first sire in harness racing history to produce a $1-million yearling (Maverick, at $1,100,000), and with his market appeal on full display, his first two crops of foals have averaged $93,567 and $111,000 at the select yearling sales.