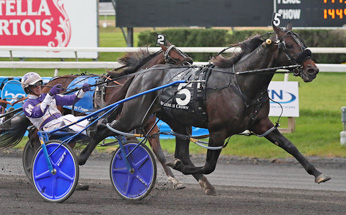 p,2,1:49.2; 3,1:48.1 Earnings: $1,808,147
H, 2018 By Always B Miki-Shebestingin, by Bettor's Delight
Background & Current Status:
Bred by: Brittany Farms & Val D'Or Farms
Sale history: Retained for racing
Owned by: Perfect Sting Syndicate
Trained by: Joe Holloway
Current status: Stallion (Deo Volente Farms - NJ)
Racing Credentials:
At 2: Undefeated in 10 starts and first undefeated 2-year-old colt pacer to win the Breeders Crown. Dan Patch Champion "2-Year-Old Pacing Colt of the Year." At 3: Richest Standardbred of 2021 ($1.2-million), Breeders Crown Champion and Dan Patch Champion "3-Year-Old Pacing Colt of the Year." Only pacing stallion in modern times to win the Breeders Crown and Dan Patch Award at both 2 and 3.
Major Stakes Victories:
$600,000 Breeders Crown (elims and finals at both 2 & 3), $250,000 Kentucky Sire Stakes Final, $359,300 (div.) Bluegrass Stakes, $299,100 (div.) International Stallion Stakes, $148,000 Pennsylvania Sire Stakes, Tompkins-Geers Stakes, elim of $1,000,000 North America Cup and elim of $661,800 Little Brown Jug. Second in finals of North America Cup, Little Brown Jug, Meadowlands Pace, Cane Pace, Tattersalls Pace, Hempt Memorial and Bluegrass Stakes.
If ever a horse was "bred to be a sire" it was Perfect Sting. He is by the co-fastest pacer in history and champion sire Always B Miki p,1:46, and from the fastest 3-year-old pacing filly of all time, Shebestingin p,3,1:47. However, expectations and final results don't always see eye to eye... but in this case, they did.
Breeder (and Brittany owner) George Segal and co-breeder Marty Granoff, after one look at the resulting foal, decided he would be retained, as he was, after all, exactly the type of individual they had hoped for: strong, athletic, balanced, correct, and eye-catching. Now... if he were to make it as a star on the racetrack, they'd have a pacing stallion to perhaps take the breed to the next level.
As they say, the rest is history.
The Brittany-bred colt took on all comers and steamrolled through his freshman campaign undefeated in 10 starts, wrapping up that championship season as the only undefeated 2-year-old colt pacer in history to win the Breeders Crown. He was a near-unanimous selection as the Dan Patch "2-Year-Old Pacing Colt of the Year."
As a 3-year-old he finished first or second in 15 of 16 starts and earned $1,273,847, making him the year's richest Standardbred, regardless of age or gait. He won elims of both the North America Cup and Little Brown Jug, and finished second in the finals of those events and the Meadowlands Pace. He proved to be the best in his division when it mattered the most — in the Breeders Crown — as he won that "test of champions" for the second year in a row.
After being voted the Dan Patch Award as "3-Year-Old Pacing Colt of the Year," he has the great honor of being the only male pacer in modern times to win the Breeders Crown and be voted Dan Patch Champion at both 2 and 3.
Perfect Sting now moves on to fulfill his destiny. Backed by a powerful syndicate of the world's most influential breeders, he stands stud at Deo Volente Farms in New Jersey, where it is hoped he is the sire he was bred to become.