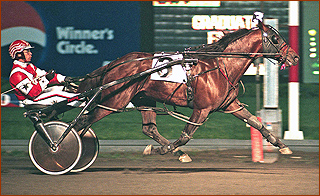 p,2,1:54.3f; 1:48 Earnings: $1,455,422
H, 1995 By Western Hanover-Leah Almahurst, by Abercrombie
Background & Current Status:
Bred by: Brittany Farms
Sale history: Retained for racing
Owned (during his racing career) by: Brittany Farms
Trained by: Alan Riegle, Blair Burgess, Brett Pelling
Current status: Retired
Racing Credentials:
Hall of Fame racehorse and World Champion. In 2000: "Older Pacing Horse of the Year," Canadian record-holder and leading money-winning older pacer.
Major Stakes Victories:
Breeders Crown, William Haughton Memorial, Canadian Pacing Derby (track and stakes record) and Graduate Series.
Western Ideal, the royally-bred son of Western Hanover from blue-hen mare Leah Almahurst p,3,1:52.3, was a World Champion and classics winner on the racetrack, and is yet another example of the Brittany-bred horses who have gone on to even greater acclaim as harness racing's leading commercial sires.
The highly regarded colt was a stakes winner at 2, but severely injured a tendon late in his freshman season. After missing his 3-year-old campaign, he was brought back slowly, with an appreciation of his potential for greatness. He well fulfilled that potential, becoming a World Champion and the sport's fastest older pacer and leading money-winner in 2000.
He enjoyed immediate success as a stallion at Hanover Shoe Farms. He ranks among harness racing's leading sires of million-dollar winners, with 15 to his credit. Much of his success now continues through his sons and daughters.
His sons include Rocknroll Hanover, Always A Virgin and Artspeak that are carrying on his siring legacy. Of note, he is the grandsire of the sport's co-fastest pacer, Always B Miki p,1:46 ($2,715,368), he in turn the sire of 2021 champions Perfect Sting, Niki Hill and Monte Miki.
As an acclaimed broodmare sire he has produced dams of the winners of more than $16-million including numerous world champions, Dan Patch Champions and standouts, among them horses like like McWicked, Bettor's Wish, State Treasurer and See You At Peelers.
He was inducted into harness racing's Living Horse Hall Of Fame in 2018 and was retired from active stud duty in 2019.