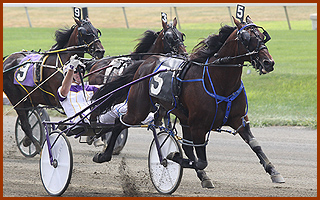 p,2,1:52.3; 3,1:50; 1:47 Earnings: $1,908,424
H, 2009 By Real Desire-Ideal Treasure, by Western Ideal
Background & Current Status:
Bred by: Brittany Farms
Sale history: 2010 Harrisburg Yearling ($6,500)
Owned by: Paul & Sally MacDonald
Trained by: Dr. Ian Moore
Current status: Stallion (Seelster Farms)
Racing Credentials:
World Champion and 2015's fastest pacer (1:47) and richest older pacer ($865,807 earned in 2015). Voted 2015 Canadian "Horse of the Year" and Dan Patch Champion "Older Pacing Horse of the Year." Multiple classics winner and three-time winner of the Molson Pace.
Major Stakes Victories:
$215,400 U.S. Pacing Championship, $685,000 Canadian Pacing Derby, Allerage Pace, Molson Pace (3 times), Roll With Joe, Mohawk Gold Cup, and Dayton Pacing Derby.