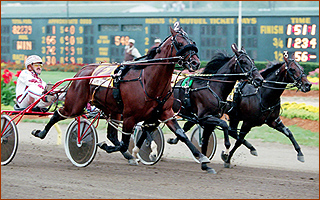 p,2,1:52.4; 3,1:50.3 Earnings: $1,912,454
H, 1990 By Abercrombie-Three Diamonds, by Albatross
Background & Current Status
Bred By: Brittany Farms
Sale History: Retained for racing
Owned (during his racing career) by: Brittany Farms
Trained By: Gene Riegle
Current Status: Deceased
Racing Credentials:
World Champion 3-year-old, winning the Little Brown Jug in straight heats of 1:52h-1:52h. In 1992: Second-leading money-winning 2-year-old pacing colt. In 1993: Second-leading money-winning all-age pacer.
Major Stakes Victories:
Breeders Crown, Little Brown Jug, Governor's Cup, Art Rooney, American-National, Cleveland Classic, Bluegrass and International Stallion Stakes.
Life Sign emerged the victor valiant in what is widely regarded as the most exciting single pacing event of all time—the second and final heat of the 1993 Little Brown Jug.
It was high drama that will never be forgotten by those who saw it. Life Sign, after being parked the entire mile over Delaware, Ohio's unforgiving half-mile track, refused to bend and kept edging forward, overtaking pacesetter Riyadh and out-gaming his nemesis Presidential Ball to capture pacing's most prestigious event in a two-heat world record. John Campbell perhaps said it best in the winner's circle after the race: "If you don't get thrilled about this, you don't get thrilled about harness racing!"
Life Sign finished first, second or third in 33 of his 35 starts at 2 and 3 and was an accomplished stakes star both seasons that he raced. A son of Abercrombie, he is from World Champion Three Diamonds, whom Brittany owner George Segal calls "the first truly great horse I ever owned."
Three Diamonds, enshrined in the Hall of Fame, is one of the most accomplished broodmares in the sport, with her lineage also responsible for multi-millionaires American Ideal, American Jewel and Eternal Camnation. Her son Life Sign entered the Living Horse Hall Of Fame in 2013.
As a sire, Life Sign has produced the winners of more than $118-million and seven individual millionaires in North America, led by the successful Brittany stallion Real Desire p,4,1:48.2 ($3,159,814). His credits as a broodmare sire include 11 millionaires that feature a pair of $2-million winners in Loyal Opposition and Bettor's Edge.
After standing 14 years in the U.S. and Canada, he resided at Morley Park Stud in Australia until his death.