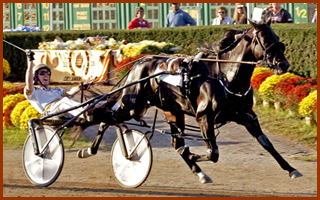 p,2,1:53; 3,1:50h; 1:49 Earnings: $3,366,157
H, 2003 By Grinfromeartoear-Best Of Memories, by Jate Lobell
Background & Current Status:
Bred by: Brittany Farms
Sale history: 2004 Tattersalls yearling ($130,000)
Owned (during his racing career) by: Lindy Farms, Diversity Stable, Canamerica Capital; Lindy Farms, John Fodera and Brittany Farms; Kevin & Kay Seymour and Peter & Zilla O'Shea (NZ)
Trained by: Jimmy Takter; Tim Butt (NZ); Luke McCarthy (NZ)
Current status: Stallion (Egmont Park, AUS)
Racing Credentials:
In 2006: Single dash and two-heat World Champion 3-year-old colt pacer on a half-mile track, winning the Little Brown Jug in 1:50h-1:50.3h. Exported and a multiple classics winner and 2009 Australian "Horse of the Year."
Major Stakes Victories:
Little Brown Jug, Inter Dominion Championship, Victoria Cup, Queensland Pacing Championship (twice), Graduate Final, Isle Of Capri, Presidential Final.