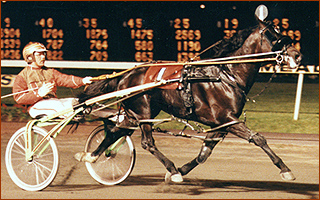 p,2,1:52.1; 3,1:50.4 Earnings: $2,541,647
H, 1989 By No Nukes-Wendymae Hanover, by Albatross
Background & Current Status:
Bred by: Hanover Shoe Farms
Sale history: 1990 Harrisburg yearling ($105,000)
Owned (during his racing career) by: George Segal
Trained by: Gene Riegle
Current status: Deceased
Racing Credentials:
In 1991: Voted "2-Year-Old Pacing Colt of the Year" and the year's fastest 2-year-old pacer on both mile (1:52.1) and half-mile (1:54.4h) tracks. In 1992: Voted "3-Year-Old Pacing Colt of the Year," the year's leading money-winning Standardbred ($1,844,315) and fastest 3-year-old pacer on both mile (1:50.4) and half-mile (1:52.4h) tracks.
Major Stakes Victories:
Cane Pace, Messenger Stakes, Governor's Cup, New Jersey Classic, Cleveland Classic, heat of Little Brown Jug.
Western Hanover's racing career, though perhaps overshadowed by his amazing siring exploits (below), was exceptional in and of itself. He was first, second or third in 40 of 42 starts at 2 and 3, was voted the champion 2-year-old and 3-year-old, and would have been "Horse of the Year" his sophomore season had it not been for Brittany-bred Artsplace taking that crown.
As a sire, his career was one for the ages, and even more impressive was that he did it the hard way...he earned it. He didn't gain full acceptance from the breeding community until his foals hit the racetrack, but when they did, they lit the harness world on fire.
Western Hanover ranks as harness racing's third-leading money-winning pacing sire of all time ($210-million). What's more, he has ranked as either the sport's leading or second-leading single-season money-winning sire on 12 separate occasions, and has sired 25 horses with earnings of $1-million or more.
His sons—and now his grandsons and great-grandsons—have become great sires in their own right. Those include Western Ideal, the grandsire of the fastest Standardbred of all time, Always B Miki p,1:46 ($2,715,368). Simply put, there was speed in his genes.
He has been one of the greatest forces the pacing marketplace has ever seen. From 2001 through 2007 he led all pacing sires in yearling average on five separate occasions, while producing well over 100 yearlings that sold for $100,000 and higher.
He was inducted into the Living Horse Hall Of Fame in 2002.