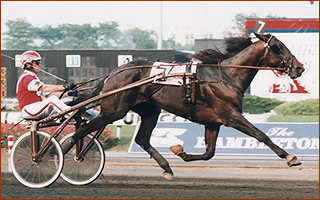 2,1:55.4; 3,1:51.3 Earnings: $1,346,390
H, 1996 By Victory Dream-Feeling Great, by Mystic Park
Background & Current Status
Bred by: Brittany Farms
Sale history: 1997 Kentucky Standardbred yearling ($100,000)
Owned (during his racing career) by: David Scharf, Sampson Street Stables and Brittany Farms
Trained by: Ron Gurfein
Current status: Stallion (Italy)
Racing Credentials:
World Champion. In 1998: Season's Champion 2-year-old colt trotter on a mile track (1:55.4). In 1999: "3-Year-Old Trotting Colt of the Year," winner of the Hambletonian in a world, stakes and track record 1:51.3, and the season's richest 3-year-old trotter.
Major Stakes Victories:
$1,000,000 Hambletonian, Kentucky Futurity, World Trotting Derby (heat), American-National (twice), International Stallion and Bluegrass.