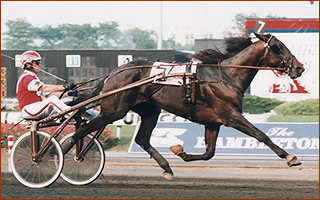 2,1:55.4; 3,1:51.3 Earnings: $1,346,390
H, 1996 By Victory Dream-Feeling Great, by Mystic Park
Background & Current Status
Bred by: Brittany Farms
Sale history: 1997 Kentucky Standardbred yearling ($100,000)
Owned (during his racing career) by: David Scharf, Sampson Street Stables and Brittany Farms
Trained by: Ron Gurfein
Current status: Deceased
Racing Credentials:
World Champion. In 1998: Season's Champion 2-year-old colt trotter on a mile track (1:55.4). In 1999: "3-Year-Old Trotting Colt of the Year," winner of the Hambletonian in a world, stakes and track record 1:51.3, and the season's richest 3-year-old trotter.
Major Stakes Victories:
$1,000,000 Hambletonian, Kentucky Futurity, World Trotting Derby (heat), American-National (twice), International Stallion and Bluegrass.
Self Possessed, among the great standard-bearers of the Valley Victory sire line, was from the first crop of the late Victory Dream and is that sire's richest and fastest performer.
On the board 9 times in 10 starts as a 2-year-old, he went on a winning streak in mid-summer that started with a victory in the Castleton Cup at DuQuoin, where he set a North American season's record for freshman trotters of 1:55.4.
In his championship 3-year-old season, he became the second Brittany-bred and the third Ron Gurfein-trained, Mike Lachance-driven trotter to capture the sport's grandest prize—the $1,000,000 Hambletonian. And he did it in style, drawing off by 5 1/2 lengths to score in 1:51.3... not only the fastest Hambo on record and a Meadowlands track record, but the fastest trotting mile ever recorded in a race at that time.
Before his highly anticipated move to the stud barn, he took an impressive straight-heats win over the famed clay of the Red Mile, winning the Kentucky Futurity in 1:53-1:52.3.
In addition to his racing exploits, Self Possessed was a market phenomenon in his early years at stud and achieved siring greatness in his own right. He produced 29 yearlings that sold for $100,000 or more from just his first three crops, which were led by the great racehorse and sire Cantab Hall and World Champion Snow White. He is the grandsire of successful young sire Father Patrick, whose own son Greenshoe carries on Self Possessed's paternal legacy.
As a broodmare sire, he produced the dams of Elitlopp winner Magic Tonight and $2-million winner Oasis Bi.