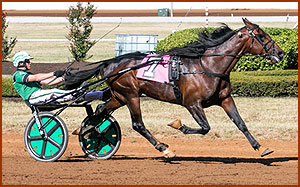 2,1:55.4f; 3,1:49.1 Earnings: $1,939,604
H, 2015 By Muscle Mass-Pleasing Lady, by Cantab Hall
Background & Current Status:
Bred by: Brittany Farms
Sale history: 2016 Lex Selected Yearling ($30,000)
Owned (during his racing career) by: Ake Svanstedt, Little E LLC-Knutsson Trotting, Lars Berg and Stall Kalmar
Trained by: Ake Svanstedt
Current status: Stallion (Deo Volente Farms)
Racing Credentials:
Fastest 3-year-old trotter in history (1:49.1). Established three career World Records. Voted Dan Patch Champion "3YO Male Trotter of the Year" in 2018 and "Older Male Trotter of the Year" in 2019. 2018's richest ($1,159,648) and fastest (1:49.1) 3-year-old trotter. First trotter in history to take sub-1:50 records in consecutive years.
Major Stakes Victories:
$620,000 Kentucky Futurity, $500,000 Yonkers Trot, $350,000 TVG Open Trot Final, $210,000 Matron Stakes, $181,000 Stanley Dancer Memorial, $225,000 New York Sire Stakes Championship, $223,000 Empire Breeders Classic, Allerage Farm Trot, eliminations of Breeders Crown and Earl Beal Memorial.